You really think you take the best decisions on your own?
Wait to get some true insights from your colleagues!
Works on Ms Teams and Slack
Starts at 200€ / month
The first tool that guarantees corporate honesty.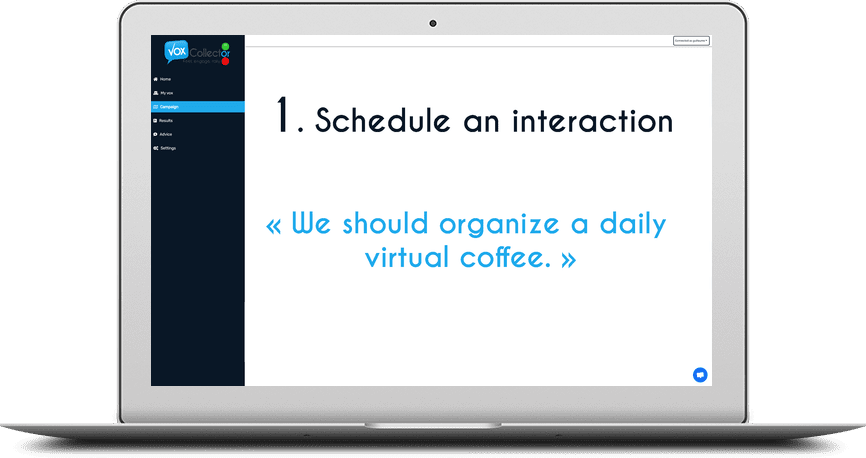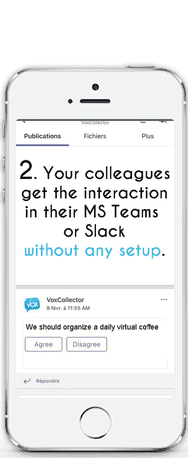 SOME REFERENCES THAT ADOPTED VOXCOLLECTOR

Simple, No login.

Our platform was engineered for simplicity. No registration for your colleagues, no extra tool, no login, no password to remember,.... Just load your interactions, sit back and enjoy.

Unique Anonymity

Let us state this simply: Our system is fully anonymous by design. It is impossible, even for us, to trace back the votes from your colleagues, and trust us, it wasn\'t easy to achieve this but it makes us unique on the market.

Instant results

All the results per interaction are stored in our platform where you will benchmark your corporate culture and find actionables to improve your team.

Transparent

Every colleague will have access to the daily general result of the team.

Fun

Our system is casual and allows to extract incredible insights in a fun and casual way. Drop the existing boring HR studies and try us.

Science backed

Our product was designed with the help of the University of Leuven (belgium). Our interactions have been benchmarked and assessed with academics.
We dreamed about taking mainstream dull productivity tools and making them fun and insightful.
So we did it.
Matthieu Donnet - CoFounder @ VoxCollector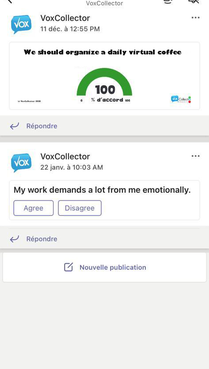 Every teammate will receive the answer to the interaction of the day
The results will be published in the MS teams channel you have selected in a total transparent way.
You can also choose to send the answer at the same time you send the next question, in order to minimize the disruption for your team.
Much more than simple interactions
If you go with our academically backed questions, you will have access to a full benchmarking of your coporate culture on 16 actionnable axes. You will also find advices on how to improve those and see the evolution.